Catalogue #: AS-110

Style: Repeating Pattern

Sized, priced and produced on a project-specific basis. Custom colours, sizes and scales are available.
Colourways:
01. Original

Review material options
Order sample or purchase

Description:
Alder wallpaper is a repeat pattern based on the original Alder wood installation by BC artist and designer, Brent Comber.

Alder is one in a series of works by the artist that attempt to capture the impression of the intense contrasts of light and dark experienced as sunshine piercing through the dense coastal forest in North Vancouver, or watching the light of the fire burning between logs in the fireplace.

By arranging the logs horizontally, Comber creates an eye-level orientation that reveals intricacies within the pattern, inviting contemplation on the material itself. The Alder tree represents renewal, regeneration, these trees grow quickly to fill any available space in the forest, contributing to the constant shifts in light and composition as other trees are felled by commercial forestry or die off.

Comber's original wood installations are inspired by the coastal forests indigenous to his ancestral home in the West Coast of Vancouver, British Columbia. Constructed with salvaged wood rejected by the commercial wood industry that is then photographed, the works have been digitally transformed in collaboration with the artist to be reinterpreted as wallpaper by Rollout.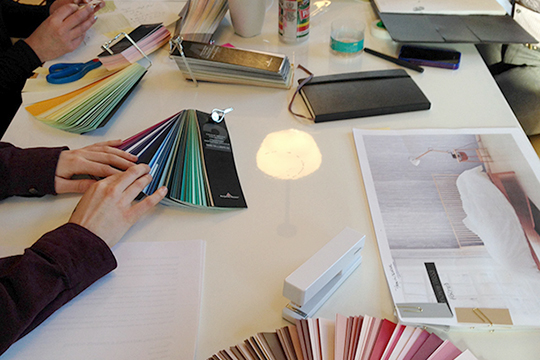 Ideation to installation.
We're proud to share the stories of our past work. But what really gets us excited is your vision for your next big project. Our team of creative professionals will help you make desirable spaces that captivate and inspire.
Work with us