Catalogue #: AS-006

Style: Repeating Mural

Sized, priced and produced on a project-specific basis. Custom colours, sizes and scales are available.
Colourways:
01. Pantone Process Yellow
02. Pantone Process Magenta
03. Red Pantone 199
04. Pantone Process Cyan
05. Green Pantone 369
06. Pantone Process Black
07. Yellow Pantone 103
08. Pantone Cool Gray 9

Review material options
Order sample or purchase

Description:
Wayfinder Arrows by Mike & Maaike is a graphic wallcovering that serves a functional purpose within the context of architecture. While wallpaper is typically decorative, and symbols are typically functional, this combination of the two creates new possibilities for architects, interior designers and space planners to incorporate custom wallcoverings as a creative approach to functional design. The pattern can be tailored to include custom icons, patterns, size and colours for an effective range of branded interiors.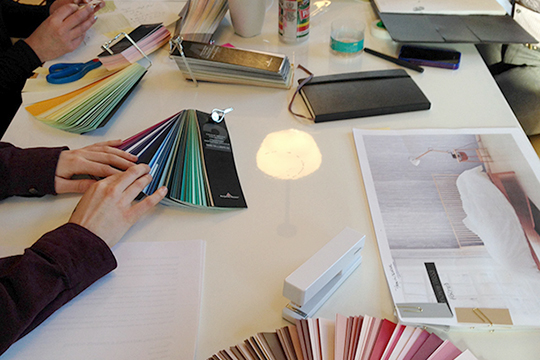 Ideation to installation.
We're proud to share the stories of our past work. But what really gets us excited is your vision for your next big project. Our team of creative professionals will help you make desirable spaces that captivate and inspire.
Work with us