Catalogue #: DP-003.01

Style: Repeating Pattern

Sized, priced and produced on a project-specific basis. Custom colours, sizes and scales are available.
Colourways:
01. Original

Review material options
Order sample or purchase

Description:
"This collection is based on a painting I did of cherry blossoms at the Huntington Gardens in San Marino, California. I'd been looking at a lot of Japanese art, so I'm sure that was an influence, and the broken-up surface was inspired by aging frescoes I'd seen in Italy. In a way this motif is a meeting of East and West, kind of like California itself. The line drawings layered over the painted imagery, and sometimes appearing on their own, refer to the visual note-taking that makes up much of my art practice.

Biosphere is a scientific term for the total sum of living organisms on earth."

The many variations within the Biosphere collection give designers the opportunity to choose from a wide variety of color and texture combinations, ranging from understated modern simplicity to richly layered surfaces reminiscent of ageing frescos or peeling billboards. These combinations can be used individually, to set a particular mood, or playfully mixed and matched from panel to panel. Regardless of which selection of backgrounds and colorways are chosen, the overlay of hand-rendered line drawings will tile seamlessly between them.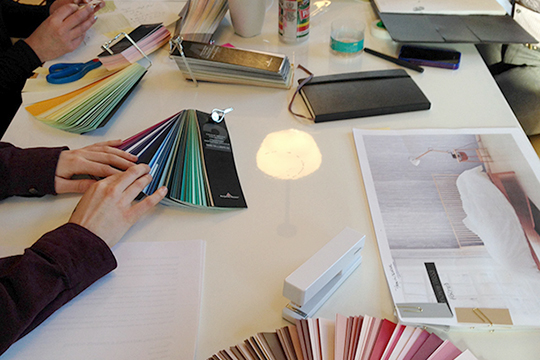 Ideation to installation.
We're proud to share the stories of our past work. But what really gets us excited is your vision for your next big project. Our team of creative professionals will help you make desirable spaces that captivate and inspire.
Work with us