Catalogue #: AS-112

Style: Mural

Sized, priced and produced on a project-specific basis. Custom colours, sizes and scales are available.
Colourways:
01. Original

Review material options
Order sample or purchase

Description:
Heartwood is a wallpaper mural based on an original wood conceptualisation by BC artist and designer, Brent Comber. Comber and Rollout collaborated to create imagery that explores issues of dimension and perception, using the familiar imagery of dendrochronology; the annual diameter growth rings revealed on the cross section of a tree when it is harvested for commercial wood production, and expanding that image to larger than life proportions.

Heartwood is one in a series of works using wood and mixed media produced by Comber that capture impressions and explore new perspectives on how light, scale and texture affect interior spaces.

Comber's original wood installations are inspired by the coastal forests indigenous to his ancestral home in the West Coast of Vancouver, British Columbia. Constructed with salvaged wood rejected by the commercial wood industry that is then photographed, several of Comber's works have been digitally transformed in collaboration with the artist to be reinterpreted as wallpaper by Rollout.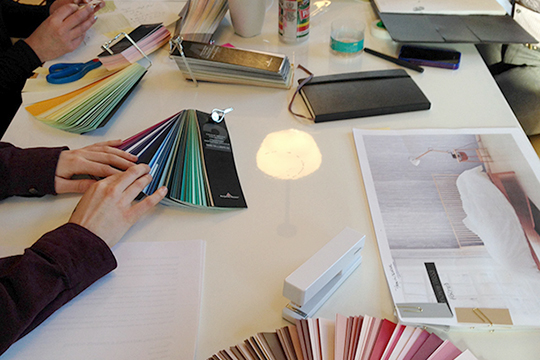 Ideation to installation.
We're proud to share the stories of our past work. But what really gets us excited is your vision for your next big project. Our team of creative professionals will help you make desirable spaces that captivate and inspire.
Work with us