Catalogue #: DP-001

Style: Repeating Pattern

Sized, priced and produced on a project-specific basis. Custom colours, sizes and scales are available.
Colourways:
01. Original
02. Greyscale

Review material options
Order sample or purchase

Description:
"I live in Los Angeles, but I grew up in a small town in upstate New York, surrounded by farmland. I was always fascinated by the cows. They never seemed to be in a hurry. There is a long history of cows in art, from John Constable to Andy Warhol (who made cow wallpaper!), so I feel like I'm continuing a tradition.

The title of this collection was provided, unintentionally, by filmmaker David Lynch. As part of his publicity campaign for Inland Empire, Lynch sat on a street corner in Hollywood with a cow and a poster of Laura Dern. I went to a screening of the film, and at the Q&A session afterward the moderator asked "so what's the deal with the cow?" His answer was simply "people like cows." I thought this was hilarious, but also true, so I borrowed it as the title for a whole series of paintings, and this wallpaper."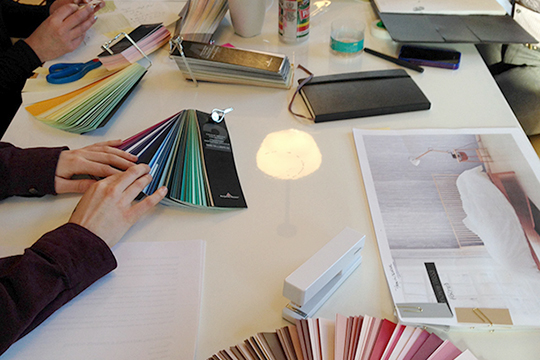 Ideation to installation.
We're proud to share the stories of our past work. But what really gets us excited is your vision for your next big project. Our team of creative professionals will help you make desirable spaces that captivate and inspire.
Work with us