Catalogue #: RS-001

Style: Repeating Mural

Sized, priced and produced on a project-specific basis. Custom colours, sizes and scales are available.
Colourways:
01. Original

Review material options
Order sample or purchase

Description:
"Colourinky stems from a series of paintings I did for the Pridehouse Lounge for the PanAm Games in Toronto. I wanted those paintings to be happy, celebratory. They needed to carry a large white room so I knew they needed to be intense colour. I started looking at the work of the great Color Field painters - Helen Frankenthaler, Morris Louis, Jules Olitski and took the idea of stain painting from that. The intensity of the colour is saved from becoming overwhelming by the delicacy of the fades and overlaps. There is an ethereal quality about them that I like a lot.

It was only after PrideHouse that I realized another significant connection of this imagery to my life. I attend a lot of live concerts and, in retrospect, I realized that this work has much to do with that. An audience experience has a lot to do with stage lighting. Effective and artful lighting is crucial to how an audience perceives the music and is something I find quite fascinating. The experience of being enveloped in this saturated colour I find beautiful and uplifting. It's sort of nostalgic to me. I thought about that when I was making Colourinky - I look at it and it reminds me of concerts I've seen and how you can get lost in that moment."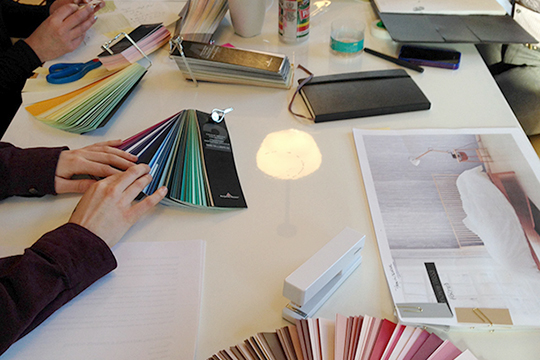 Ideation to installation.
We're proud to share the stories of our past work. But what really gets us excited is your vision for your next big project. Our team of creative professionals will help you make desirable spaces that captivate and inspire.
Work with us