Catalogue #: NM-016

Style: Repeating Pattern

Sized, priced and produced on a project-specific basis. Custom colours, sizes and scales are available.
Colourways:
01. Blue

Review material options
Order sample or purchase
Description
New Materialism is a collaboration between Rollout and veteran surface designer Robert Sangster. This collection includes handmade surface treatments such as rust, patina, concrete, and foiling techniques that were photographed at a high resolution and turned into digitally printed wallcoverings. Scale and colour treatments have been explored to create a diverse and comprehensive collection that portrays Rollout's unique blend of positive collaboration and creative vision.

The collection is an archive of Robert Sangster's career, spanning over 20 years. It is a retrospective of his work, surface trends, and years of creative exploration. These pieces possess a beautiful decay and, when presented in the context of large-scale wallpaper installations, the compositions, finishes, and textures are clearly crafted from the skill of a great painter with the eye of a materials expert. This collection embodies the ideal that there is beauty in imperfection. Sangster notes that New Materialism is about appreciating materials for the inherent qualities they possess. This involves accepting any anomalies or imperfections that arise in the construction of the material, seeing that flaws can add elegance to objects and surfaces, and recognizing the passage of time can affect and enhance material and space. New Materialism is a move away from today's immediacy and minimalism and toward creating warmth and texture to illicit an emotional response through the use of materials that are handmade, human, and possess a sense of romance and nostalgia.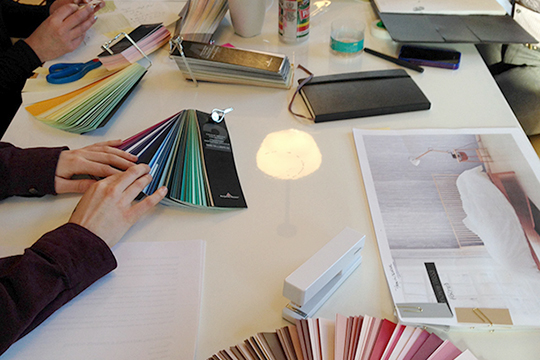 Ideation to installation.
We're proud to share the stories of our past work. But what really gets us excited is your vision for your next big project. Our team of creative professionals will help you make desirable spaces that captivate and inspire.
Work with us