Catalogue #: RS-002

Style: Repeating Mural

Sized, priced and produced on a project-specific basis. Custom colours, sizes and scales are available.
Colourways:
01. Original

Review material options
Order sample or purchase

Description:
"Double Fantasy is born out of a style of painting I have been doing for the past few years. It comes out of a fascination with Abstract Expressionism, especially the New York School from the '40s–'70s.

One of the great formal accomplishments of this school of painting was the ability to convey mood without figures (Rothko is a perfect example of this – and I'm not comparing myself to Rothko!). I think about this a lot, though. No wallpaper is perfect for every situation, when I'm designing it I think about where/when/how it will work, about the mood of it. I wanted to create a piece that was cool, aloof in a way, dignified. To me, there is a formality to this piece, the resonance to marble, staining, Asian ink painting are all interesting to me.

The greatest thing about the digital revolution in wallpaper is that, as a designer who has been producing wallpaper patterns since the '90s, I am freed from the tyranny of the repeat. I get to play with the idea that a wallpaper no longer needs to be a consistent repeated pattern across the entirety of a wall. It allows me to work on a scale that carries the idea across.

When the original was finished it reminded me of the Lennon/Ono Double Fantasy album cover - a black and white photograph of the two of them kissing. A beautiful and poignant image that starts as black on the edges and lightens in the centre, at the kiss."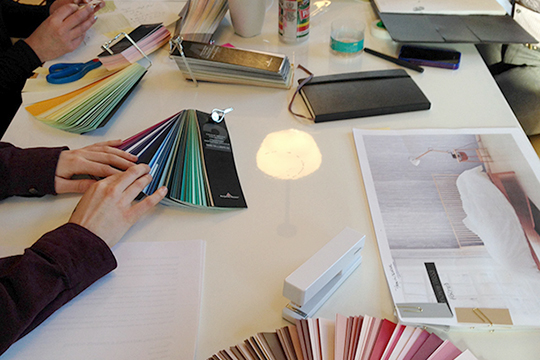 Ideation to installation.
We're proud to share the stories of our past work. But what really gets us excited is your vision for your next big project. Our team of creative professionals will help you make desirable spaces that captivate and inspire.
Work with us