Catalogue #: RS-005

Style: Repeating Pattern

Sized, priced and produced on a project-specific basis. Custom colours, sizes and scales are available.
Colourways:
01. Black and White

Review material options
Order sample or purchase

Description:
"Franz Kline did thousands of abstract charcoal drawings. He went through so much paper that he used discarded telephone books as sketch books. That sort of fanaticism always catches my attention. I have been looking at his work a lot and so I started out doing sort of fake Franz Kline drawings.

Working in charcoal is such a beautiful experience. I get lost in the physicality of it. You can push it around, erase it, smudge it. It's almost like it's alive. The black of it is unlike any other material.

But then this Kline idea crossed paths in my brain with a favorite motif of mine which is known in the studio as The F*cked-up Plaid. I decided I wanted a free-floating pattern that would not touch the top or bottom of the wall (and thus would not necessarily have to be re-scaled to fit different heights).

I wanted it to have the immediacy of a drawing and to play with the 'perfectness' of wallpaper, to be a little subversive. I didn't deliberately add any smudges or marks to it, it had to be honest, but I made no attempt to protect the surface."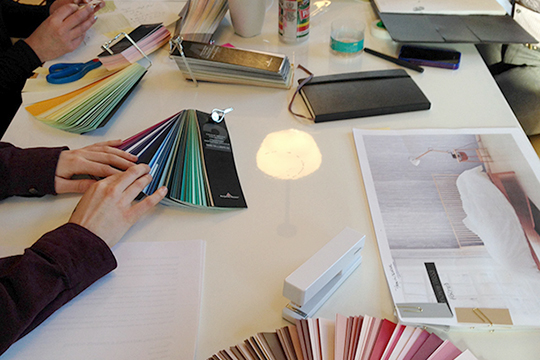 Ideation to installation.
We're proud to share the stories of our past work. But what really gets us excited is your vision for your next big project. Our team of creative professionals will help you make desirable spaces that captivate and inspire.
Work with us